The business world relies on automatic email notification – routinely getting advice about shipments, payments, orders, stock levels, deliveries, invoices, and more – because people expect real-time business transactions and 24/7 updates. Yet many ERP users, especially those with older systems, still don't provide real-time information to customers. Why? Because those systems were based on paper (e.g., printed invoices) and are costly and inefficient at meeting contemporary customer expectations.
Fortunately, proactive tools like Event Manager (Macola ERP) eliminate paper, phone calls, and snail mail. Whether it's follow-up of past due invoices or replenishment ordering from suppliers, Event Manager automatically notifies appropriate parties with no human intervention required.
All you need is software and setup.
What is Event Manager?
Event Manager is a configurable software package that monitors business data (triggers) and automatically does something (actions) on a predefined schedule. It allows companies to control operations through automated tasks, provides alerts when there are problems or exceptions, and keeps your operation running smoothly. Event Manager is like a smoke alarm – it performs an essential function you don't want to rely on people for. Typically, we work with users to configure a workflow process for their business, then set up Event Manager to automate.
Event Manager in Action
In the below example, you can see how a user sets up the function to simultaneously email invoices and save them to user accounts. In one simple box (the one with the blue header), the user describes all the events they wish to automatically occur for any created invoice. As the image shows, this user decided that the event (creation of a sales invoice) automatically kicks off four workflows:
Creation of a document based on the sales invoice data
Posting of the document to the customer's account
Email transmission of the new invoice to all relevant customer contacts
Email transmission to customer service personnel
Similar events can be designed for such things like price quotes, conversion of quotes to orders, sales order changes, partial receipts, and more.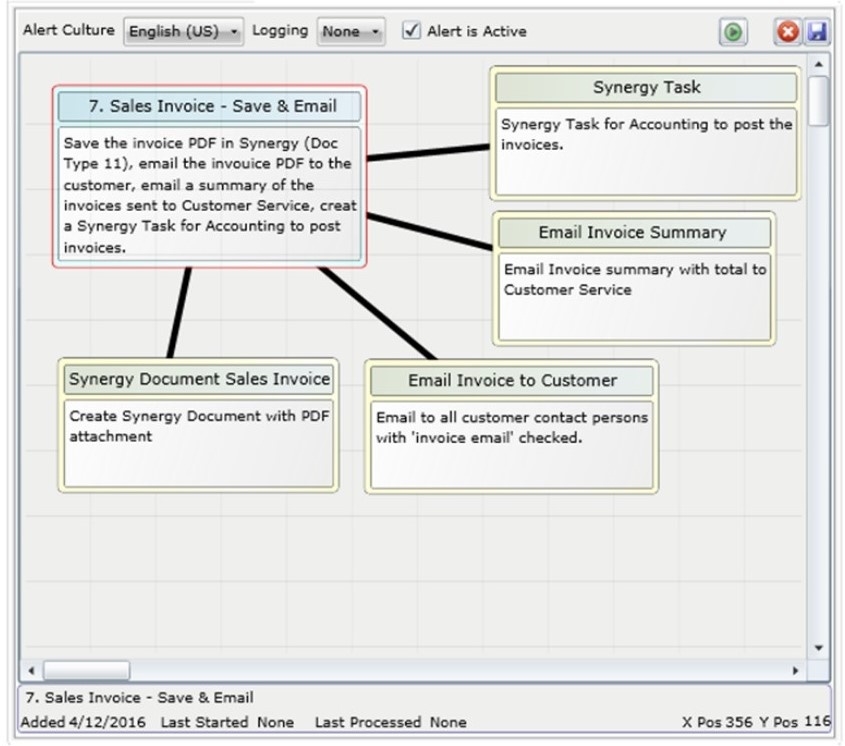 The Wide Array of Events You Can Manage Automatically
Two of the most common events we've set up for clients are "Customers Past Due" and "Orders on Credit Hold." Here's how they work:
Customers Past Due: Event Manager reads invoice data and compares the due date of a payment to "today's date." If the payment is past due (trigger), the system automatically notifies the customer's AP department (action), eliminating your need to print statements and chase customers. Event Manager allows you to determine the frequency of statement delivery, since you know your customers better than anyone.
Orders on Credit Hold: If a customer is put on credit hold, Event Manager will detect that change (trigger) and initiate an email notification (action) to a list of contacts determined by you. This enables your team to always be 'in the know' and never caught off-guard.
Here's a sampling of popular events which we have developed and deployed for our customers:
Trigger: Inventory is below reorder point, Action: Notify purchasing via workflow
Trigger: Order actual ship later than required date, Action: email customer
Trigger: POs overdue by promise date, Action: email supplier
Trigger: Order received, Action: OE acknowledgments to customers and salespeople
Trigger: Customer wants electronic invoices, Action: email PDF direct to AP
As you can see, events that alert employees, customers, or vendors of updates and/or changing conditions are highly beneficial. To discuss the many possibilities for improving your operations and being proactive via Event Manager, contact Acuity today.