When companies implement a new ERP system, they often have to give up their unique business processes to meet the limited or inflexible programming environment of the platform. WiSys Agility for Macola changes that by providing code-independent flexibility on numerous fronts so you can run your business the way you want.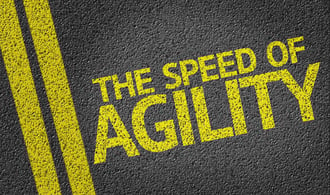 WiSys Agility has three central portions: Agility Adaptable Framework, Agility Design Studio, and Agility Form Studio. This post summarizes all three and indicates how they will benefit your business.
Agility Adaptable Framework: Manage Your Warehouse as You Choose
Imagine having the flexibility to customize your warehouse management system (WMS) solution without writing a single line of code, which is what Macola users can do with the WiSys Agility Adaptable Framework. Rather than forcing significant configuration changes each time they want to change a function's behavior, the Agility Adaptable Framework makes customization simple. The benefit is that any system user, even line-of-business users, can model their workflows without having to modify the underlying source code.
When you think about running your warehouse, do you think, "If only we could do this another way and manage inventory better." Well, now you can – the only limitation is your imagination.
Agility Design Studio: Advanced BI Execution without Restrictions
Agility Design Studio is both a business intelligence (BI) presentation platform for analysis and a toolset to create robust BI views and Macola transaction components for the desktop. As with Agility Adaptable Framework, Agility Design Studio (a subset of the framework) lets you organize your data before execution.
If you want to associate purchase orders with material usage, for example, you can easily model an analysis of material requirements and link the results to purchase order transactions. You can then create purchase orders with materials grouped on the same PO by vendor – all via a drag-and-drop tool. The benefit is that users of any level can gather insights into their portion of the business from the beginning. Users can also create and manage menus for user security. Each group has access only to the components they need, leveraging an easy-to-use interface. And, because the system carries user interfaces over to new views, training is minimized for both developers and users.
Finally, Design Studio comes with numerous pre-defined views and Macola Transaction options. Designers can copy the views and use them as open templates, exposing the original logic so others may also leverage it as a template. The result is that Design Studio saves designers and users time and provides immediate uptake of deeper business intelligence functions.

Agility Form Studio: Forms that Inform the Business
Agility Form Studio is a visual design tool for modifying existing or creating new forms for WiSys WMS on the mobile data collection device. Out of the box, WiSys deploys standard forms for the mobile data collection device. If these forms don't match your business processes, you can use Form Studio to modify them – without technical programming expertise.
For example, we typically see clients modify their PO Receiving form because most companies have their own set of data they want to collect when they receive a purchase order. With Agility Form Studio, they merely add fields onto the form – and not "dumb," fill-in-the-blank fields, either. They can include validation and lookups that update any Macola table or custom table with the information they collect, substantially reducing error rates and allowing for more accurate real-time BI.
Conclusion
The idea behind the WiSys Agility Adaptable Framework and its subsets (Design Studio and Form Studio) is business agility. To understand how to further customize the way you do business using Macola, contact us for a discussion about making your business more agile.