SAP Business One and Signs It's Time to Replace Your Legacy Software
A 'legacy system' is outdated software, generally 10 years old or older. Legacy systems are being replaced but are still widespread in the small to medium enterprise (SME) market space. Companies rely on legacy systems for many reasons: dislike/fear of change, sunken cost, a desire to avoid downtime, and more. This reliance is ill-founded.
If you don't replace your business's legacy system, you'll fall behind your competition. Modernizing legacy software is more than an update – it's a modernization of your company, making it more valuable.
Signs like these indicate it's time to upgrade:
Sign 1: Your business is growing
Legacy software can't support continued growth. Getting a clear picture of your business is essential, and legacy software prevents that with limited analysis tools. They rely on workarounds, manual reporting, tribal knowledge, and importing/exporting data from disconnected spreadsheets. This leads to mistakes, inefficiencies, and poor business decisions.
Consider modern enterprise resource planning (ERP) software with a central database that provides accurate, up-to-date information. The ERP increases collaboration, streamlines processes, improves resource allocation, and allows smarter business decisions. For example, ERPs offer automatic alerts that inform you about business problems proactively (like late deliveries, past terms, and variances).
Sign 2: Your old technology is holding you back
If your legacy system doesn't use modern technology (cloud, eCommerce, mobile access, API, etc.), you're already behind in a rapidly changing world. Today's workers need the flexibility of remote access 24/7, whether they're working from home, in the field with customers, or on business trips.
With an ERP like SAP Business One, you can use technology like Amazon Web Services (AWS) for deployment. SAP Business One on AWS with HANA offers the mobile access and cloud capabilities you need in an SME business. SAP provides a holistic view of your business, which reduces costs, improves customer service, and supports scalable growth.
Sign 3: You lack security, backups, and disaster recovery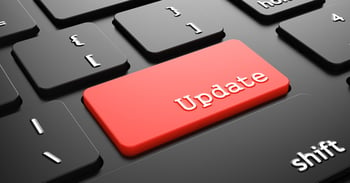 "On-premises" deployments on local servers have several inherent risks, including cyberattacks and malware. The cloud offers advanced cybersecurity features like data encryption, firewalls, and authentication rules. For regulated industries, cloud providers help businesses manage/maintain enhanced infrastructures to comply with customer regulations.
With cloud-based software, you'll also never worry about data loss – cloud providers back up your data and applications and store them redundantly, where they're accessible 24/7.
Finally, storing data in the cloud guarantees it's always available, even if your equipment isn't – and cloud providers offer fast data recovery for emergencies, from natural disasters to power outages to cybercrimes.
Sign 4: You're overspending, and your legacy system is static
With software, you'll always be spending money – but will you be acquiring value? You have two choices: spend it on a new, agile solution like SAP Business One with a published roadmap … or spend it on maintaining/supporting an inefficient legacy system that's destined to be sunset.
Here are seven reasons to use SAP Business One:
Global presence/localizations
Delivered by certified business partners (like Acuity)
Software built on best practices (e.g., GAAP)
Flexible usage options
Scalability
Extensive integrated and certified software solutions (API)
Proven value for your annual maintenance expenditures
When it's time to replace your legacy software, future-proof your business with SAP Business One. Contact Acuity – we can help.