The ISO 9000 family of quality management systems standards was designed to help organizations meet the needs of customers and stakeholders while also meeting statutory and regulatory product requirements. ISO 9001, in particular, addresses the requirements an organization must meet to fulfill these standards.
ISO 9001
With over one million certificates currently issued worldwide, ISO 9001 is well-established around the world as a quality management system standard.
It provides organizations with a framework and set of standards with benefits including:
Operational efficiencies
Increased customer satisfaction and retention
Audit reduction
Improved employee motivation/morale
Advancements in international trade
Increased profits
Waste reduction
Increased productivity
Improved standardization
ISO 9001:2015
The latest revision, ISO 9001:2015, is a 30-page document directly audited against for registration purposes.
The outline requirements for ISO 9001:2015 include: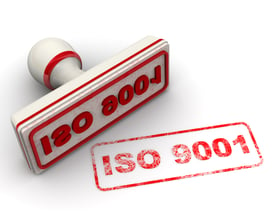 Section 4: Context of the Organization
Section 5: Leadership
Section 6: Planning
Section 7: Support
Section 8: Operation
Section 9: Performance Evaluation
Section 10: Improvement
Before certification registrars can issue/renew a certificate, their auditors must be confident that you have fully implemented the requirements of these sections. ISO standards are also reviewed every five years to determine whether a revision should be made in light of relevance to the current marketplace, thus maintaining the highest level of quality standards possible at all times.
Using an ERP System to Manage ISO Compliance
New ERP systems help manage ISO compliance with workflow and documents management software that target process control and information dissemination needed for ISO compliance. These systems can be repositories for Corrective Action Reporting (CAR). You'll get much better control and status reporting, which provides huge advantages over offline processes and MS Word files, which reside on a common drive, or worse – individual hard drives.
Is your organization ISO compliant, with effective information management systems? If not, would your business, present customers, and sought-after customers benefit from the adoption of ISO? The experts at Acuity would love to hear more about your current business and help you implement information solutions that support ISO! Contact us today for more information.