Use WMS to Make Your Warehouse Thrive … It's a Tight Labor Market!
In managing your business during this time of sustained economic growth and low unemployment rates, you know the top challenge: retaining good employees.
Distribution is growing, especially in the large market areas around major U.S. cities. Companies like Amazon are locating their operations close to large populations to serve customers with next-day – even same-day – services and deliveries.
If you're a distributor or manufacturer, a warehouse management system (WMS) will help – it may even allow you to thrive. We've been in several warehouses and heard workers praise and take ownership for their WMS. A WMS streamlines warehouse operations, as we wrote about here; it can also improve 'human conditions,' making your company a place where valuable employees are happy (i.e., less prone to jumping ship). When WMS is new, it takes a little while to catch on, but eventually, it becomes the vehicle for inventory accuracy, organization, fast transactions, and better cash management. Trust me – the warehouse folks will like WMS as much as your management team will!
WMS Automation Enables Humanistic Improvements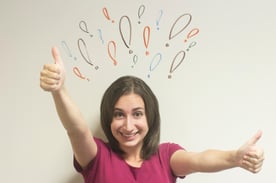 Think about how automating a process affects your staff. What if customer orders easily turned into electronic pick tickets, products were located quickly, information was efficiently scanned, and packages were sent for shipping with 100% accuracy. Efficient, yes – and what warehouse worker wouldn't want that?
Contrast this to an inefficient warehouse. Characteristics include location difficulties, handwritten information, printing lots of paper, mis-recording information, disorganization, etc. Think of the resulting lost revenue, but also think … what warehouse worker wants that? With the changes made possible by WMS automation, suddenly you have less frustration among product pickers, sorters, packers, and movers. Their work becomes streamlined, so they're more efficient and happier.
So again, retaining good employees is THE big challenge. People stay at companies, sometimes independent of pay, when they're valued and the work is rewarding. An employee who gains time due to automation can be cross-training or learning new skills unrelated to their daily role, which contributes even more to job satisfaction.
From a company perspective, cross-training improves versatility and prepares you for the unexpected. Maybe you need to handle a large emergency order, or perhaps personnel are out sick. By moving cross-trained employees into their positions, you won't miss a beat.
WMS in the Hands of Your Best Employees
WMS, properly deployed, will reduce transaction errors. Validation and accuracy through scanning are proven results of successful WMS projects. Think of how far we've come next time you do self-checkout at the supermarket. By reducing errors, returns, and the additional resulting work, WMS can help adjust staffing based on proper value-added work content.
This allows you to keep your best and provide them a sense of empowerment. Don't look at this as a chance to save on labor costs – instead, introduce incentive programs and pay raise programs for the team members you value most.
Who Would Have Thought Automation Could be Humane?
People think of automation as machines replacing people, but it's actually machines helping people with tedious, error-prone tasks that people quickly grow weary of, such as recording, counting, and entering data. With WMS, not only can you streamline operations and make them more efficient, you can focus on creating more value for your business and the people who make it run smoothly. WMS becomes a win-win for your company and staff – and that's critical for retaining good workers.
Acuity Can Help
As you evaluate your needs for WMS, tap an organization with the proper experience. Acuity Consulting understands, deploys, and supports WMS and ERP systems every day. Contact us – we can help.