Simplify Pallet Management with SAP Business One and WiSys
In a previous post, we provided a walkthrough of the PO Receiving & Put Away warehouse processes in SAP Business One. Another advantage of the combined power of WiSys is the real-time material management of pallets for SAPB1.
WiSys Pallet Management adds a new pallet layer to SAP Business One's capabilities in a complete package for building, shipping, and recording the movement of pallets. You can build a pallet on the fly or during the fulfillment of your production process as part of the WiSys manufacturing execution solution for SAPB1.
WiSys generates a pallet license plate number when you build a pallet. This unique number allows you to record the movement of the pallet within your warehouse by scanning the pallet ID with a mobile data collection device. With order fulfillment, you can perform a pallet letdown process to scan a full pallet or replenish your picking bins to add to the shipment as part of WiSys's excellent packing and shipping solutions for SAP Business One.
WiSys's Pallet Management relies on a tier of business logic built on the Agility Adaptable Framework designed to add a new data structure to SAP Business One for packaging.
WiSys's handheld pallet management transactions include pallet: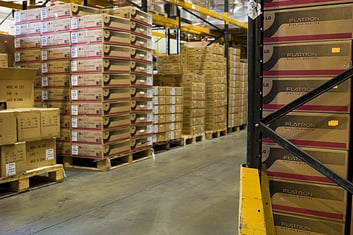 Building
Production
Consolidation
Receiving
Transfer
Letdown
Destruction
Label printing
Shipping load pallets
The desktop version also includes handheld pallet management transactions such as status viewing, label printing, and inventory analysis.
Watch this video to learn more about the building, moving, and shipping of pallets. Our next blog will focus on the Agility Adaptable Framework that allows SAP Business One users to build workflows without modifying the source code.
WiSys Supply Chain Management solutions have certified seamless integration with SAP Business One. This integration allows users to record all business transactions in real-time, starting at the first touch point in the organization. WiSys versatile tools are purpose-built to automate business processes and allow agile business decisions based on real-time data.
Acuity and WiSys
Acuity Consulting Group is a WiSys partner with years of manufacturing, distribution, and inventory management experience. We've seen the impact of WiSys on our clients, and we welcome the opportunity to discuss how you too can better serve your customers.