Need to Improve Your Inventory Process? Use SAP Business One with WiSys
WiSys Warehouse Management System integrates seamlessly with SAP Business One, so if you need to receive, put away, issue, produce, warehouse, and ship inventory items, this powerful solution is the answer.
And that's not all it can do. Bins, lots, and complex shipping are handled routinely, along with 'agility' reporting that presents critical ERP information in a grid format. This facilitates transactions and information access at the proper point of use, starting at the first touch point in the organization. As a result, the WiSys system significantly streamlines warehouse-related processes.
This post walks you through the first warehouse WiSys processes in Business One: PO Receiving & Put Away. Subsequent blogs will explore the advantage of the combined power of WiSys and the real-time material management of pallets for SAPB1.
The Starting Point - PO Receiving & Put Away
Picture your receiving dock. A delivery arrives. Rather than grabbing paperwork or possibly going to a fixed workstation (the old way), you affix a label that can be read with a handheld device (the new way). From there, the items received can be transferred, assigned to a specific bin, tracked for lot number, and reflected in updated inventory levels and purchase order status. This happens rapidly and in real time.
The big picture result: high inventory accuracy – and your business runs better.
What sounds too good to be true is an everyday occurrence with Wisys deployments. The typical SAP Business One purchase order (below), as used in the front office (the old way) is now in the hands of the receiver on an RF scanning device (the new way).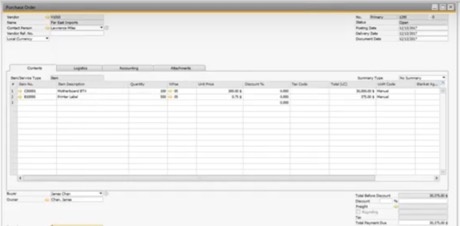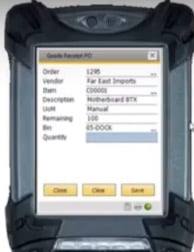 It's easier, faster, consistent, and – most importantly – done at the right time. Going forward, a label (like below) forever travels with the item, so future transactions are easily executed on that same handheld.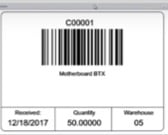 A Good Start
WiSys makes receiving in SAP Business One at the dock easy. After deployment, you'll reach a point where everything has been received in WiSys. Your receiving team will take ownership of inventory accuracy and won't let anyone mess with shortcuts! Your confidence in your received ("raw") inventory position and accuracy will be high; as you transact in real time, you can trust that your data is correct and up-to-date.
Your investment in SAP Business One is paying off. Why not multiply its value by making receiving streamlined, accurate, and efficient?
In the next blog, we'll follow the inventory into production.
Acuity Consulting Group
We are a WiSys partner with years of manufacturing, distribution and inventory management experience. We've seen the impact of WiSys on our clients, and we welcome the opportunity to discuss how you too can get better inventory control and service your customers.