How Automation Improves Supply Chain and Warehouse Management
Many businesses realize they need supply chain automation to compete in their industry. The old ways of managing and sharing data via paper-based or manual electronic processes (like email) are simply too slow. Pressure to keep manufacturing on time, respond to last-minute demand changes, and manage numerous other 'modern' tasks of an eCommerce-driven world require certain capabilities.
We'll look at some specific capabilities that positively affect supply chain management and warehousing.
Supply Chain Automation
There are two major enablers of digital supply chains, and you will have either used them to manage yours or have benefited from them as a consumer. They are electronic data interchange (EDI) and automatic identification technologies (auto ID).
EDI streamlines processes by allowing for the fast and secure transfer of business "documents" from one computer (or server) to another. Examples of documents companies typically transfer via EDI include:
Purchase orders
Advance shipping notices
Invoices
EDI technology automates the communication process to minimize human intervention. For example, fields in EDI document transmissions are readable, so rather than relying on a customer to email an order and a supplier to act on it, EDI automates both ends of the process – computer to computer. This speeds up the process, eliminating manual intervention, which dramatically reduces the potential for errors. To do business with major retailers and eCommerce companies, EDI is a prerequisite.
Automatic Identification Technologies
Automatic identification (auto ID) is a technology through which item/batch/lot or other grouped and identifiable product data is entered automatically into a business's computer system. Common example technologies include barcoding and radio frequency identification (RFID). These technologies have changed the way goods are tracked throughout the supply chain; by reading any identifier code (scan, RF, wearables) and reporting back to the ERP, the entire supply chain knows exact item information (like what it is and its location).
The benefits of auto ID technology include clarity, reduced cost, faster speed through the supply chain, and better support for storing and processing information.
Automation Must Extend to the Warehouse
A warehouse that uses a warehouse management system (WMS) can realize productivity increases of 20-30%, reduced inventory position (and associated cost of carrying inventory), pick accuracies, and shipping accuracies that exceed 99%. There are several trends pushing manufacturers and distribution companies to automate their warehouses.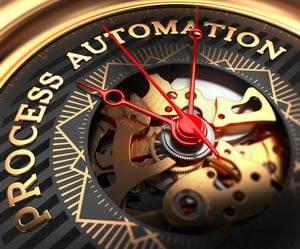 First, many companies are compelled to perform 'direct-to-consumer' tasks, especially because today's consumers can order B2B and B2C easily. They expect supplier agility and speed, which means they expect what they want and when they want it. We also see increased daily order volumes, small-parcel shipments, and same-day shipments becoming commonplace. This means there will be more complex distribution requirements, particularly around real-time, integrated information transfers.
Consider the way today's most agile distributors operate. They receive orders on behalf of a retailer via EDI from the retailer. From there, the distributor must interact with shipping services and then fulfill the order internally. This happens within minutes using EDI and auto ID. The customer expects this, and the supplier must be able to provide it.
Conclusion
Manufacturing and distribution companies have a tremendous opportunity to add value to a range of customers through automation. These technologies save costs, streamline processes, and enable an entirely new set of services that customers seek today or will seek soon.
At Acuity, we help companies every day with supply chain and warehouse systems. Contact us – we'd be happy to show you what's possible.