As your manufacturing or distribution business grows, your processes become increasingly complicated. To remain competitive, you need to develop workflows that are supported by your ERP.
Workflows that are supported by ERPs ensure employee consistency, meaning employees will:
Know how tasks are done
Know how their tasks fit into the overall process
Well-established workflows clarify downstream and upstream functions as well as expectations. Like a symphony, there are several instruments but only one sheet of music.
Many small and midsized companies have survived using 'tribal' knowledge ─ tasks are completed in an ad hoc manner invented by the employee who owns the task and in a way that wasn't meant to become standard practice.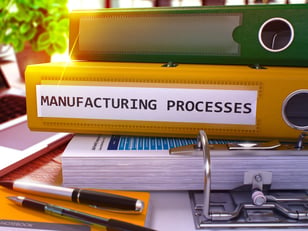 This people-dependent approach can work on a small scale, but it breaks down as your business grows because when there's no standard way of doing things, inconsistency and variability are the results.
(This is a 100% management issue to tackle; managers should look to defining workflows and how ERP supports this.)
Modern ERP Workflow Tools Bring Process Standardization and Organizational Structure
Workflow tools in modern ERP make it easy to define, customize, and execute key business processes. As you design a process, workflow software makes it easy to get started and allows you to customize as you go. Once established, your workflows become visible to everyone, providing process flow transparency, standardization, and control.
Another benefit of modern ERP is the integrated nature of workflow tools. Rather than developing and importing workflow diagrams from external apps, such as Word and Visio, you create the workflows in ERP, including flows, responsibilities, documents, key information, and reporting to support the process and manage your business.
How It Works
Consider your 'pick-ship-invoice' process. With a modern ERP, you can create a workflow that queues customer orders, drops the orders in the warehouse for picking (with pick tickets automatically included), and instructs warehouse staff to pick and pack each order and log the shipment. The workflow can then automatically produce labels, ship the product in ERP, and create a customer invoice for the billing department to review and then email to the customer; you can also include customer acknowledgments, shipping notices, tracking information, and the like.
Just imagine how much better your business will be when everyone, from the warehouse to the back office, is on the same sheet of music. Contact us anytime to discuss how ERP-based workflows can support your growth.