Company Growth: Better Technology, not More Staff
Growing companies reach a point where they must either add staff or upgrade technology in order to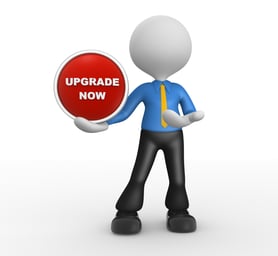 service customers and remain competitive. A manufacturing company might have to choose to either hire more skilled labor, or invest in capital equipment. Likewise, in the office, the decision to support growth is between hiring additional staff or upgrading systems. Adding staff is often the first choice, but is it necessarily the right choice?
Upgrading Systems with Better Technology
Employees often welcome better systems to keep up as their work grows, - especially "busy" work. The same employees are the best place to start when looking for a solution. Besides, involving users early on the evaluation process improves the chances the solution will "stick" – doing change with them, not to them. But they can't do this alone. A project and task focused consultant with experience, the ability to work with your team and clear a understanding of your business systems is needed. She will help you understand where you can create efficiencies by upgrading through better technology.
Long Distance – not a Sprint
Sure, additional staff can be hired to help with heavy workloads—but this may be a Band-Aid, not a cure. Faced with this dilemma, consider the long term benefit to your business of an efficient process supported by new technology. This applies to any core part of your business: Order Entry, Manufacturing, Financial Reporting, eCommerce, Inventory Management, Order Fulfillment, Quote to Cash, Order to Pay. Implementing technological upgrades may have some upfront costs, but it's often a better longer-term solution, with real ROI and happier employees. An ERP consultant can advise you on those benefits and then help you realize them.
With over 20 years of experience working with companies in all industries, the professionals at Acuity Consulting Group can help you find efficiencies in your systems and decide when staffing or systems upgrades make the most sense. For more information call 401-243-8480 today.
Please check out our video on ERP solution, Exact Macola.