Wade Through Information With a Dashboard Interface
Productivity generally means work done properly, quickly and correctly. Most businesses continually try to find ways to increase the productivity for their employees. Consider understanding the content of large reports. But give people flash reports or executive summaries as an option. They'll get key details before quickly moving on to the next task. That's productivity.
To carry this further, what if you had a summary of multiple reports or data sources tailored to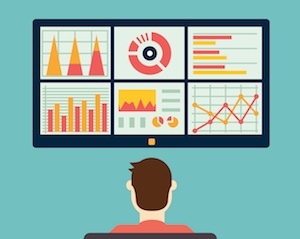 each specific user? This is what's called a "dashboard" or "workspace" Making dashboards available from your business software to your users may be easier than you think!
Information Dashboard vs Printed Report
By understanding the differences between an information dashboard and a printed report, you can start a path toward increased productivity. Printed or even PDF reports are traditional means of fleshing out details surrounding, projects or business activities you're engrossed in. But getting every bit of information in a large report or "data dump" often is counter-productive. An good business software dashboard will condense information like an executive summary, presented in a simplified format. This includes graphics, pull down options, ranges (e.g. dates), sort orders and links to easily access more detailed information. Dashboards put power in the users hands and saves wading through reams of content to find what you're looking for.
4 Main Benefits of an Information Dashboard
Customizable: The content sources that supply your dashboard can easily be customized, by user.
Mobility: Information dashboards commonly work on mobile devices so users have access to information on the go.
Intuitive Presentation: There's no need for complex training to use a dashboard. They're typically designed to be easy to understand and navigate.
Links To Detail: There's no lack of information on a dashboard, as source links are always available in order to drill down into more detail.
For more information about how information dashboard's available in our business software, call Acuity Consulting Group today: 401-243-8480.
Please check out our video on ERP solution, Exact Macola.