Now that you've defined your business's transactional processes and answered several "why?" questions, it's time to decide what else needs improvement. In this post, we'll introduce tasks that commonly make us cringe.
Take a moment to think about your business day. What activities slow you down? Are they process related? Software? People? Or possibly all of the above? Picture the ideal future state – how does it look?
Which of these cringe-worthy tasks do you expect to see addressed in a software demonstration?
Manual Data Entry
Time is money – and manually entering data is slow, tedious, error prone and costly. A well-designed ERP solution will eliminate the need for certain manual data entry, which will save hours of time and improve overall data accuracy.
Paper-based Operational Tasks
Where is your key data stored? Spreadsheets? Paper files? Multiple databases? Can you locate important information quickly?

An ERP solution will help solve the problem of missing data by housing your important information in one central location and reducing people-dependency. An ERP will also help you maintain accurate records and generate reports quickly and efficiently.
Difficult Customer Service Calls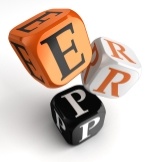 Customer service calls can be difficult, especially if you have to make your customer wait. ERP solutions make it easier to provide high-quality customer service by giving you access to accurate customer details and history at a moment's notice. Improving client interactions and boosting relationships is a great differentiator.
Reporting
It's 4 pm and you've been asked to provide your executive team with reports by COB. Does this mean you begin furiously sending emails, consolidating spreadsheets, and texting people for help? Is the information you need even available?
ERP systems provide a single, integrated reporting system to analyze data in real time across all functions/departments, allowing for quick response times to data requests without the help of IT.
Data Quality
Can the information be trusted? Security features within your ERP system will improve accuracy, consistency, and security of your data.
A good software demonstration will help you clearly understand how to take the cringe out of these tasks.
If you'd like some assistance, contact Acuity Consulting Group today.