What is Lean Manufacturing?
Does your warehouse have an extensive inventory of unsold stock? Does your plant have more workstations than it needs? Or, do you continuously restock materials months in advance of when they are actually necessary?
If so, your business may benefit from implementing lean. If you're already on a "lean journey," you understand that you're never truly finished. We've seen lean permeate many organizations, resulting in significant manufacturing improvements. But lean has also spread to the front office – and ERP systems support lean by, yes, adding value!
What is lean manufacturing and where else does it fit?
The main objective behind lean manufacturing is quite simple – eliminating waste. Waste is any activity that does not add value for the customer. It costs both you and your customer money – and may serve as an obstacle when trying to win new business.
Some benefits of going lean include:
Improved quality / fewer defects
Increased productivity / efficiency
Higher overall manufacturing flexibility
Reduced lead times
Increased employee morale
Safer work environments
Improved customer service
Having the right processes and tools in place will help you manage your manufacturing operation effectively, will boost productivity, and will reduce unnecessary waste.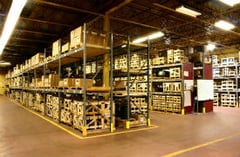 But also consider having the right steps, information, quality, and efficiency in other business processes. What if you smoothed out sales, returns, field service, compliance, etc.? Today's ERP systems can fully support lean in both manufacturing and front office processes. We know because we've helped deliver it!
How would your business benefit from lean business practices? The experts at Acuity would love to help you implement the solution best for your business! Contact us today for more information.