Total Preventative Maintenance (TPM) is the system used by lean manufacturers to maintain and improve the reliability of production and quality systems that add value to your organization. TPM applies to machines, equipment, processes, and teams. It is a holistic approach to equipment maintenance that strives toward perfect production and high productivity with a modest investment in maintenance.
TPM can also create ownership, blurring the differences between production and maintenance roles by empowering operators to maintain their equipment to enhance quality and prevent future accidents/injury.
Principles of TPM
The eight principles of TPM are: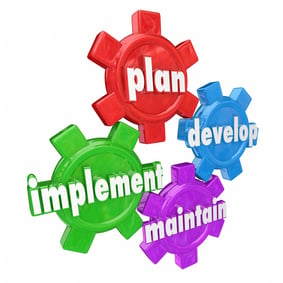 Focused Improvement
Autonomous maintenance
Planned Maintenance
Quality
Cost System
Early Equipment Management
Training and Education
Safety Health Environment
The Role of ERP
ERP systems support TPM in many ways. For example, a good scheduling system (sub-set of ERP) will recognize when equipment is planned to be down and adjust accordingly. Costing (ERP) – critical to accountants and management – will gather work center data to help determine margins. These work centers may have a TPM component. Workflow systems (ERP) may track quality information to further support cost, but also to understand and manage sources of defects and compliance to ISO processes and Corrective Action reporting.
Is TPM something your organization could benefit from in maintaining equipment and supporting lean? Do you understand how new ERP systems play a supporting role in TPM? If not, the experts at Acuity can help you implement a successful ERP strategy. Contact us today for more information.