Making ERP Demonstrations Effective for Your Company
A new ERP (Enterprise Resource Planning) will increase productivity and help maintain a healthy bottom line. Pursuing a new ERP makes good business sense. Talking to experienced VARs (value added resellers), like Acuity Consulting Group, about ERP is a great first step. But how do you get a clear picture of the value a new ERP will bring to your business before you've selected one?
Understanding the Demo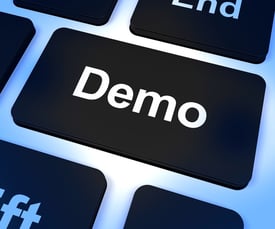 Always get a demonstration. But try to insure the demonstration is relevant. You should envision how the new ERP will improve productivity. But often the demo features aren't completely understood. Here are some few hints on making "demo time" effectively worthwhile:
"The Vital Few" – Document key requirements that are specific to your business. Do not make the list exhaustive – no one has time to itemize thousands of features that most systems can already handle. Jot down questions during the demo too. Your new software will come with help screens, manuals or technical instructions.

But putting the "vital few" into your own language will ensure you understand how the solution will work in your business. Additionally, there isn't always time for every question during the demo.

So it's important to record what you learn and what is unclear so you can follow-up with your VAR.
"A demo – Not a Training Session" You will not fully understand all software capabilities just from a demo. That's what implementation project are for. Understanding the major components of your new software and how they apply to your business is key. Also make sure you are comfortable the VAR with who will deliver the solution and will work with your team.
"Expectations – Know your Users".

The VAR who demos the ERP solution will not know the demo participants well – but you will. Make sure there is some context for the benefit of all involved.

The AP clerk who does transactional entry, versus the Controller who compiles financial reports, versus the Executive who needs summary level information all have different perspectives.

Yet all are part of the ERP project and normally, the demo.

Allow participants to describe their challenges at the outset, so they are engaged in the demo.

The new system will be different and change can be difficult.

But often change is needed.

Speaking of the Executive, make sure she fully lets the participants know the importance of the new ERP project.

If she's not committed and on board, don't waste anyone's time.
It's easy to let excitement and expectations cloud the real reasons you purchased new ERP software. Vision can get lost in the heat of the implementation, so keeping these three tips in mind during demonstrations can help keep you on track.
For more information about ERP and other software solutions, as well as the proper implementation of those solutions, contact Acuity Consulting Group today: 877-361-6534.