Hope Global, Rhode Island Manufacturing, and ERP.
I had a chance to sit with Tom Ferrucci of Hope Global recently. Tom is their Vice President of Information Technology. Hope Global is a sizable, well established Rhode Island manufacturing company.
Hope Global and ERP
The company has a long history of textile manufacturing, with an automotive focus, which continues to this day.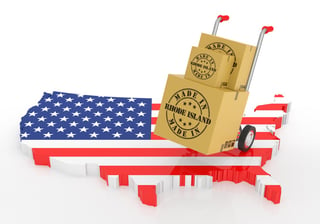 Because of worldwide demands for their product, manufacturing and distribution have been set up off shore to supplement their supply chain and to service customers. But the RI plant remains the corporate center and nucleus of the operation. To achieve this, Tom's team deployed a sophisticated ERP system. This was a must and is fully in place. It's not possible to have worldwide operations without this technology that links various offices and plants around the globe.
In a very competitive age with rigid customer demands, worldwide manufacturing of automotive parts is no easy task. Hope Global has risen to the occasion and thrived through great corporate focus while embracing technology. That focus is proudly here in Rhode Island.