Manufacturing and distribution companies reach the point where they have to standardize their processes, improve their efficiency, and serve their customers better and faster. But how? Those are lofty goals that every business leader espouses but only the successful achieve. Exact Macola 10, from Exact, is "designed specifically to increase the speed and accuracy of doing business in today's complex manufacturing environment." (Business Wire on June 30, 2014 - http://www.businesswire.com/news/home/20140630005255/en/Exact-Launches-ERP-Software-Solution-Small-Mid-Sized#.VW21kpjbLDc)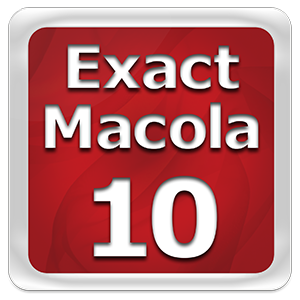 It has four key areas of functionality that focus on what businesses need:
1) Core ERP functionality, which now includes callable objects, enabling browser-based screens and custom web apps; and quality measurement capabilities for reviewing and measuring samples when purchased items are received
2) Ease of use improvements such as configurable workspaces and visual elements that turn data into consumer information
3) Business Activity Monitoring that automatically triggers actions when criteria are met
4) Business Process Management to provide document management, custom workflows, and Customer Relationship Management.
Sounds like just what every business needs doesn't it? But, isn't such a terrific software package difficult to implement? Acuity Consulting Group, headquartered in Providence, RI and providing a balance of consulting, technology, and education to clients in the New England area since 2004, helps your business properly apply technology to the right issues. Technology doesn't solve problems if it isn't properly applied to the right issues. And if your staff doesn't know how to use the technology, it does your company no good. You need to balance technology, consulting and training against the budget you can afford and the goals you are trying to achieve. This is something we never lose sight of. Contact us today and start the process of growing your company!