Legacy enterprise resource planning (ERP) systems can be like vintage cars. You may be emotionally attached because you've had one forever, but they require soooo much upkeep, they are not reliable, and parts and service, if you can find them, come with a steep price. They're nice to take to a car show, but a bad choice to drive across the country. And isn't your business more like that long trip? So, with all the terrific improvements in new ERP packages (prime example: SAP Business One), why run your SME on a legacy?
There are several reasons it's better to have a modern car for everyday use. Likewise, there are reasons you need a modern enterprise resource planning (ERP) system to run your business.
Legacy ERPs rarely have mainstream features for a simple reason – the systems were written too long ago. Perhaps not that distant chronologically, but it may as well have been the ice age technologically. Flat files? Character-based? We visited a company using a legacy system without fields for email addresses. Why? Because email wasn't widespread when the program was written in the mid-90s. Cars didn't have anti-lock brakes then, either. Business functions in our increasingly digital, global economy are necessary for competitiveness. With good database engines and APIs, newer ERP systems offer fully integrated mobile access, eCommerce, customer relationship management, and more.
Legacy ERPs can't support continued growth. Instead of built-in business functions, they rely on workarounds, manual reporting, tribal knowledge, and importing/exporting data from disconnected spreadsheets. This leads to mistakes, inefficiencies, and poor business decisions.
The older an ERP, the less likely the publisher still invests in it. Upgrades may be spotty, and patches may not give functional improvement, just platform compatibility. The number of consultants willing to support these older technologies is dwindling. We knew a Cobol programmer with a 5-year backlog of work and an astronomical hourly rate. His clients were prisoners of old technology. One day he walked away, moved to Florida, and video chats with his grandchildren. No one blamed him, but they haven't found a replacement.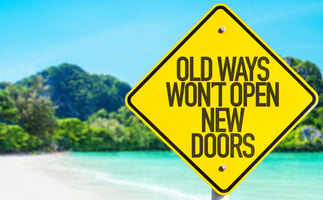 A few other reasons you should upgrade your ERP:
Newer systems are more user-friendly, so they require less training
Training is often supported by YouTube
New technology attracts new talent
New ERPs allow you to provide better customer service … including "self-service"
The global ERP software market is worth nearly $50 billion. Anyone who uses a modern system understands why – because an ERP will:
Handle all your business's diverse functions
Streamline data by storing it in a single database
Reduce user error
Eliminate the expense of maintaining multiple systems
Modern ERPs are like the car you'd want to drive across the country: modern amenities, convenience, reliability, and professional support.
At Acuity, we're all for keeping vintage cars – they're fun to tool around town in and show off. However, we strongly advise against keeping vintage ERPs. If you're ready for an upgrade, we'd love to help you review SAP Business One - the best modern ERP for your small to midsized business.