Is your business stuck in partial or full manual workflow processes? Are your sales a static dead end?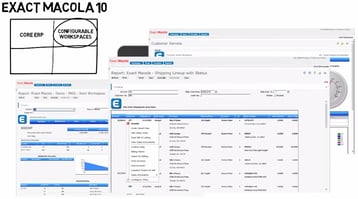 Exact Macola 10 is a valuable resource for small and mid-sized businesses in manufacturing and distribution. With the full system of ERP capabilities including CRM and buesiness workflow processing, Exact Macola 10 gives businesses the ability to manage processes, data, and your workforce to increase quality while decreasing costs and more.
The following are 5 ways your business can use Exact Macola 10 to solve problems by increasing quality and decreasing costs.
Automate Workflow - There are events in any business's workflow, which happen with measurable predictability and can cause major problems for your business system if not addressed in time, like inventory ordering, equipment maintenance and payroll processing. With a fully integrated ERP system, automate many of these events, notifying the right personnel, filling out the right paperwork and avoiding errors and delays by automating processes with your ERP.
Turn Sales into Relationship Building - With CRM systems in your ERP, you can turn sales and service into relationship management. Marketing and Customer service representatives will have the contact info and information gleaned from the sales reps who signed the account. Additionally, sales reps will be better equipped to up-sell and cross-sell accounts because of information regarding customer's service needs throughout the sales cycle.
Get Real Time Analytics - Business operates via information and data management. In the past, relevant information to your business was generated in reports every month, quarter or year and the rest of the time business systems operated as normal. With modern information and quality management systems, you need access to your information immediately and an ERP like Exact Macola 10 creates information analysis as needed.
Integrate with Add-Ons - Exact Macola 10 has add-ons, which give your system the ability to interchange electronic data, track labor, manage maintenance scheduling and warehouses. These greatly expand your ability to control processes and manage information to prevent unexpected costs.
Reduce Variation - In creating quality systems, your employees and machines need to do the same quality of work every time, and a quality ERP can give you the tools to analyze exactly how each work process works, the costs associated and where variations and changes happen.
Exact Macola 10 gives your business the ability to increase quality and decrease costs. For more information about Exact Macola 10 and how it can help your business, please contact Acuity Consulting Group.
Please check out this video to learn more about Exact Macola.