Certain manufacturers are under tremendous pressure to manage and track finished products, WIP, and raw materials from original suppliers to end customers. This is called "traceability," and compliance is largely due to numerous regulatory agencies that enforce laws for public safety. These include the Environmental Protection Agency (EPA), the Federal Drug Administration (FDA), the Department of Transportation (DOT), the Occupational Safety and Health Administration (OSHA), and the Toxic Substances Control Act of 1976.
Beyond regulatory concerns, robust traceability is in the best interest of any manufacturer who needs to track serial or lot history. Having precise insight into where specific lots are (raw goods, in the plant, in the finished goods warehouse, at your distributors, or with your customers) can prepare you for the worst. With ERP-based lot tracking systems, manufacturers can trace products and material inputs down to the originating batch level. With warehouse automation and scanning, this can be faster and highly accurate in a transaction-heavy environment. Your ERP system, if it's the correct one, can build an entire lot history to serve your traceability requirements.
Serial/Lot Compliance - The information manufacturers must track
Consider specific information requirements tied to agency regulations, and you'll see what manufacturers must track and trace.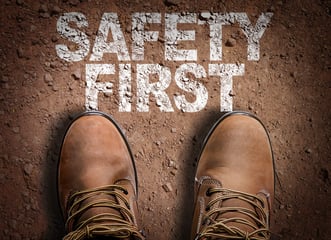 EPA: All data around a spill, emission, or exposure to hazardous materials and substances
FDA: The full list of ingredients, some of which could be harmful, that go into each product
DOT: How the product or its inputs were stored, used, and transported (example: bill of lading)
OSHA: The impact of manufacturers' practices and facility design on worker health and safety
Toxic Substances Control Act of 1976: Mandates regarding reporting and record-keeping of all chemical substances received, used, and delivered
Your customers may be subject to the above or demand their own internal traceability controls for reasons they deem appropriate to their business … and then pass on to you.
Because of these requirements, your ERP system must be efficient and capable of housing key traceability data such as:
Manufacturer name and address
Name and/or designation of active ingredient(s)
Manufacturer batch number
QC data for any batch
Transportation and distribution records
Certificates of analysis
Expiration date(s)
Although you don't want to, picture a recall. Is your ERP system ready?
Having all product-associated data is one thing; managing that data in an actionable way is another. This should come from your ERP system, not an offline spreadsheet, because if the information is in the system, extracting data is easy. For example: Which customers have received specific product batches? At what locations? Which batches are in finished goods? In shipping? In production? To optimize this scenario and satisfy auditors, your ERP system must:
Relate all raw material inputs to a finished product (full lot traceability)

Store recipes (which may vary) as product data

Expose traceability to allow reporting so the entire history of any lot can be readily known

Support warehouse management system (WMS) capabilities to build this history – including bar coding and RF scanning – to enter information in real time with high accuracy.

Force users of the ERP system to identify lots at the right time, so you're not playing catchup later. For example, with a WMS RF scanner, you can disallow a material issue until a proper lot number is entered.

Tie traceability to shipment and invoicing data if a product recall occurs.
This data managements enables "one-up" and "one-back" traceability as specified by the Food Safety Modernization Act (FSMA).
For one-up traceability, you must be able to demonstrate that your company can stop any product's use by customers rapidly. To do this, you need highly accurate traceability of exactly who your product was sold to.
For one-back traceability, you must know where every input originated and halted receiving more goods from those sources. You also need to notify those sources so they stop selling the products/materials.
Conclusion
Having the right traceability capabilities can mean the difference between fast problem resolution and long-term brand damage – or even bankruptcy. As you evaluate your needs for traceability, recognize that certain ERP systems provide advanced functionality that can provide you with all your traceability needs. Acuity Consulting understands, deploys, and supports these systems every day. Contact us – we can help.